Earlier this week Bronny James, oldest son of NBA star Lebron James, suffered cardiac arrest in the middle of practice and was hospitalized with reports saying that he is in stable condition in the ICU. James is an incoming freshman committed to play basketball at the University of Southern California, making him only eighteen years old. He has been a high athletic performer for many years, in high school he was named a McDonald's All-American and was one of the top recruits in his class. In light of this health instance, there has been many questions raised about cardiac arrest in young athletes and its causes. The situation is rare but when it occurs in high profile athletes the focus on the increases. In January, American football player Damar Hamlin suffered a heart attack after a tackle and was hospitalized for over a week but has been recently cleared to return to the sport. His was caused by commotio cordis, which occurs when severe trauma disrupts the electrical charge of the heart.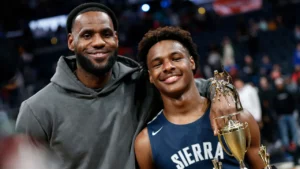 Dr. Neerav Sheth of Cardiology Consultants of Philadelphia's Paoli group comments on the issue saying, "Cardiac arrest in elite athletes can happen due to a variety of conditions.  The most common ones in younger athletes are usually related to inherited conditions that may cause a structural abnormality in the heart or an electrical disturbance that causes the heart to "short circuit".
When that happens, there's no coordinated electrical signal to tell the heart to pump blood.  Whatever the cause may be, in the moment the first thing to do is stabilize the person suffering from the cardiac arrest.  That means early recognition, early CPR, early defibrillation and advanced cardiac care.  After that, looking at potential causes would be important.  If identified, family members / blood relatives should be screened for their risk of having a cardiac arrest.  Routine wellness checkups and talking to your doctors and your family members about their medical conditions goes a long way in prevention."
Researchers suggest that sudden Cardiac arrest in young people is most common in those without diagnosed Genetic heart conditions. The American College of Cardiology conducted a study with player that have different common genetic disease to see what has attributed to no lethal cardiac episodes in these specific players. The article focuses on the importance in having a shared decision-making model with sports cardiologists and genetic cardiologists to properly asses the risks that these young people are taking. The ACC's comments along with Dr. Sheth's supports the conclusion that early recognition and methodical planning with consultation from many experts in the field is the best way we can avoid these tragedies in young high preforming athletes.